We had been talking about doing the Hervey bay whale watch cruise for a couple of years but things had got in the way. At the start of 2014 we decided to sell the boat (again) based on the fact that we just can't find the time to use it enough. After a couple of months on the market the boat started getting more interest and I got scared that she would sell (again). So we pulled the ads down and decided we would do the Hervey bay trip in the September school holidays.
Sunday 21st of September was spent getting the boat ready including taking everything heavy out of it and putting it in the car. While I was doing this, the wife was packing all the cloths etc into a couple of bags and they too went into the car. We got up about 5.30 on Monday morning (an amazing feat for my wife and kids!) and were out on the road by about 6.30am – made it around the corner and I decided I wasn't happy with a last minute mudguard modification I had done the day before, and so had to mess around with that for half an hour or so.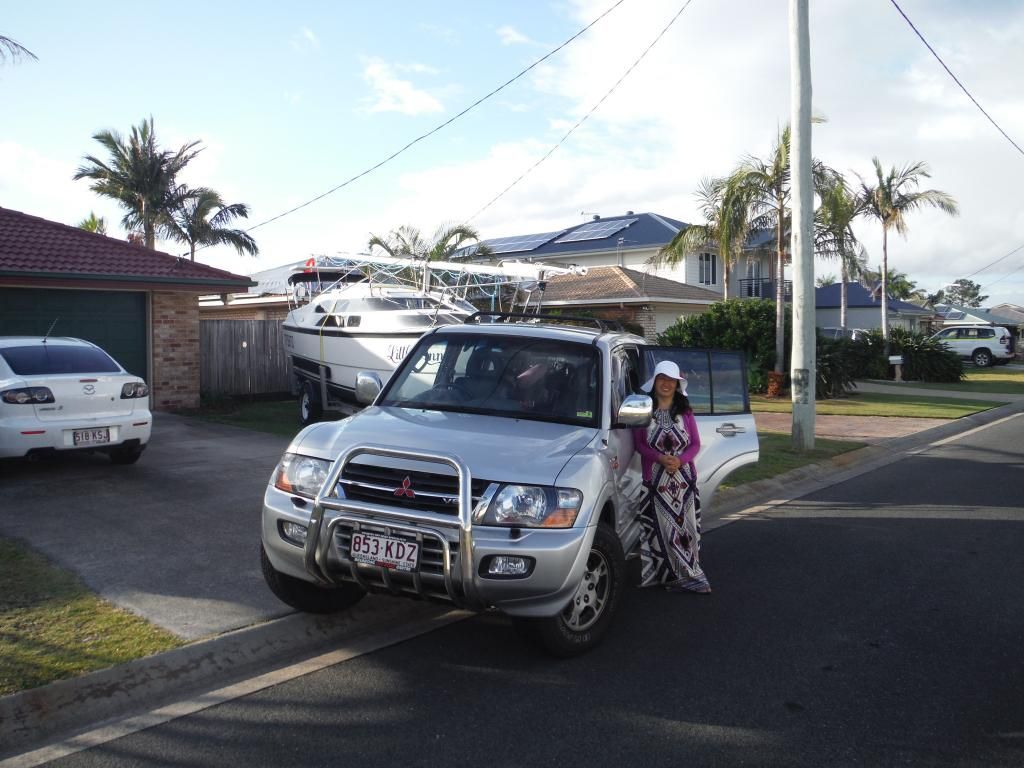 Soon we were on the M1 heading north (very slowly in the morning peak hour traffic). Once across the gateway the traffic thinned and we had a pleasant drive north for the next 3 hours however the car temp gauge was really starting to climb on the hills! About an hour out of UranganI pulled off the road and checked the oil and water (knew I forgot something). The oil was very low and so I unhooked the boat and left it on the side of the road with my wife and kids while I backtracked to a Shell for some oil. While I was gone a farmer arrived on a tractor – he said he couldn't believe it when he saw in the distance, a huge boat sitting on his property and had thought that Father Xmas must have come early this year! Once the car had some oil, we were back on the road with no problems. We arrived at Urangan boat harbour to a lovely 27 knot southeaster blowing straight onto the ramp. Now we love our Mac, but I'm a realist so I'll just straight up admit – light weight +_ huge freeboard + no draft = a PIG of a boat in high winds in a tight marina!
It's a brilliant 4 lane ramp but the pontoon is separate from the ramp and a float on trailer and guide rails make for a very easily launched boat. I backed her off the trailer and over to the pontoon no problems. Then we motored around to our berth - yes the seawall cuts out a few of those 27 knots but it was still a little scary getting into our berth. We spent two great nights at the marina and the wife loved our time there so much and the great hospitality provided by the new managers Deb and Bob, that we decided to stay for a third night. There is a few restaurants at the boat harbour and we chose what was clearly the most popular (Had to wait for a seat compared to only three people in the restaurant next door). Now we are kind of cheap and don't generally go to restaurants and unfortunately I have to say that this just reminded me of why. I won't go on about it too much but I'm a bit of a pie man and paying 18 bucks for a pie which had a grand total of 7 chips on the plate next to it and a bit of green - I just wasn't that impressed. For anyone with young children I highly recommend the free water park on the esplanade. Our children had a great time running around there for 3 hours or so. Right near the water park in Main Street is an award winning pie shop and they have tasty pies for only $5 or so. As recommended by Ian and Marie on TSP we utilized the services of the Urangan butcher, visiting them on the second day and asking them to cryovac a heap of meat in meal size portions and freeze it for us which they happily did. When we picked it up, they even told us the tides for the next day!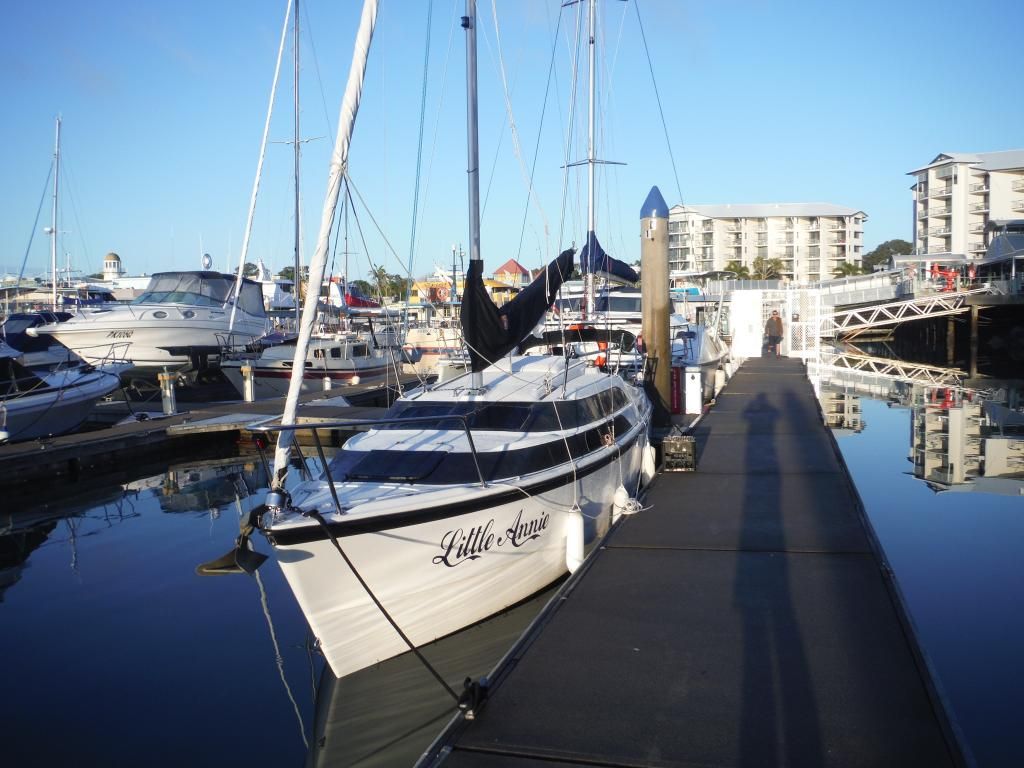 We motored out of the boat harbour the next day and found we had the wind on the nose. The wind is virtually always on the nose for us so that didn't put us off and well, the Mac is a kind of nice trailer sailer in a headwind
A few hours later we were making our way into Coongul creek, pretty easy to find your way in but beware of the tree stumps. Congul is crystal clear on a flooding tide but turns a tannin stained coca cola brown as the water ebbs away. It is a beautiful little spot and we had it all to ourselves. The fast moving tide caught me out and we ended up drying out on a not so fun angle.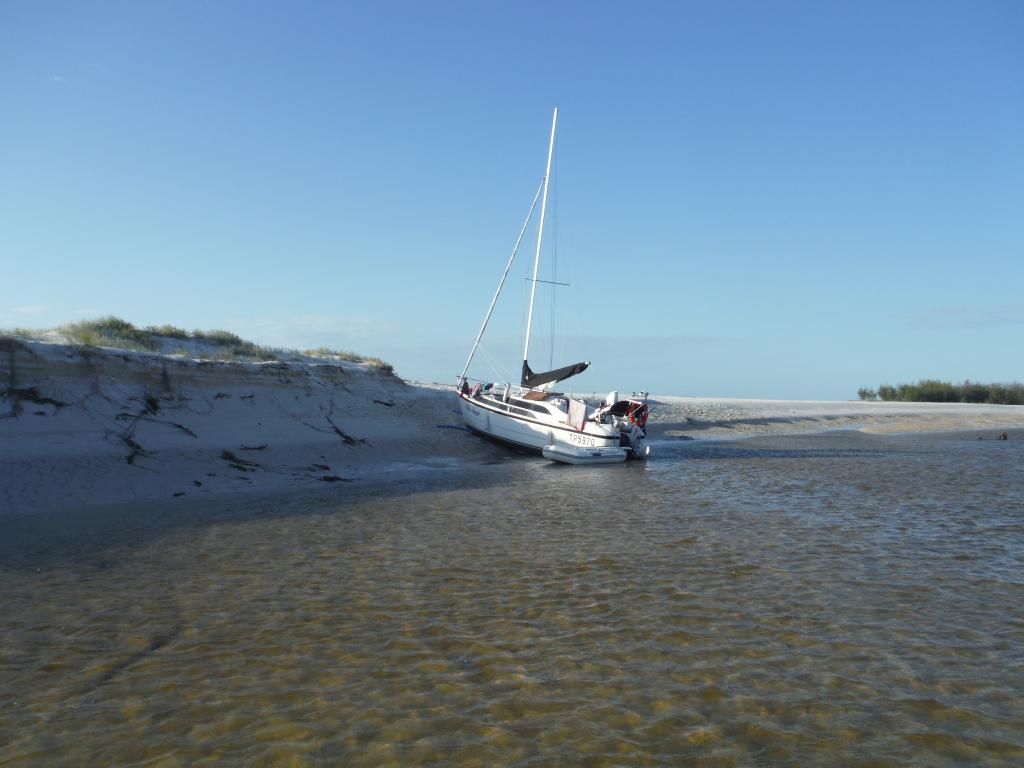 We had a fun activity planned for the kids here. We had made a nice coffee stained old looking treasure map and stuck it in a rum bottle which just happened to be on the beach as we went for a walk
Earlier while the wife entertained the kids, I had snuck off into the swampy looking area to the south of the creek and buried two small wooden chests containing fake gold coins, rubies, plastic necklaces, seashells etc. So off we went on the treasure hunt into Dead Mans swamp anxiously looking over our shoulders in case Blackbeard should appear! The kids just loved it.
Then we realized that we had unfortunately forgot our Magna BBQ. Don't get me wrong, we love our Origo, but she doesn't do much of a job of roast beef or thick T bone steaks!. I have an emergency exploder (gas camping stove) in the boat and we thought we would do our best with that but then realized we had no gas canisters (three months of planning really payed off eh!). Now thankfully there is mobile phone/internet reception at Coongul and so I decided to give Kingfisher resort a call and to my surprise the shop had two gas canisters in stock which they would hold for me for a day. So the decision was made to set sail for Kingfisher resort the next day, rather than Wathumba creek which had been the plan. Of course the next day the wind had veered right around and there was a decent headwind on us as we left the creek which produced some nice little waves. My wife was lookout on the foredeck and got soaking wet which I found most enjoyable.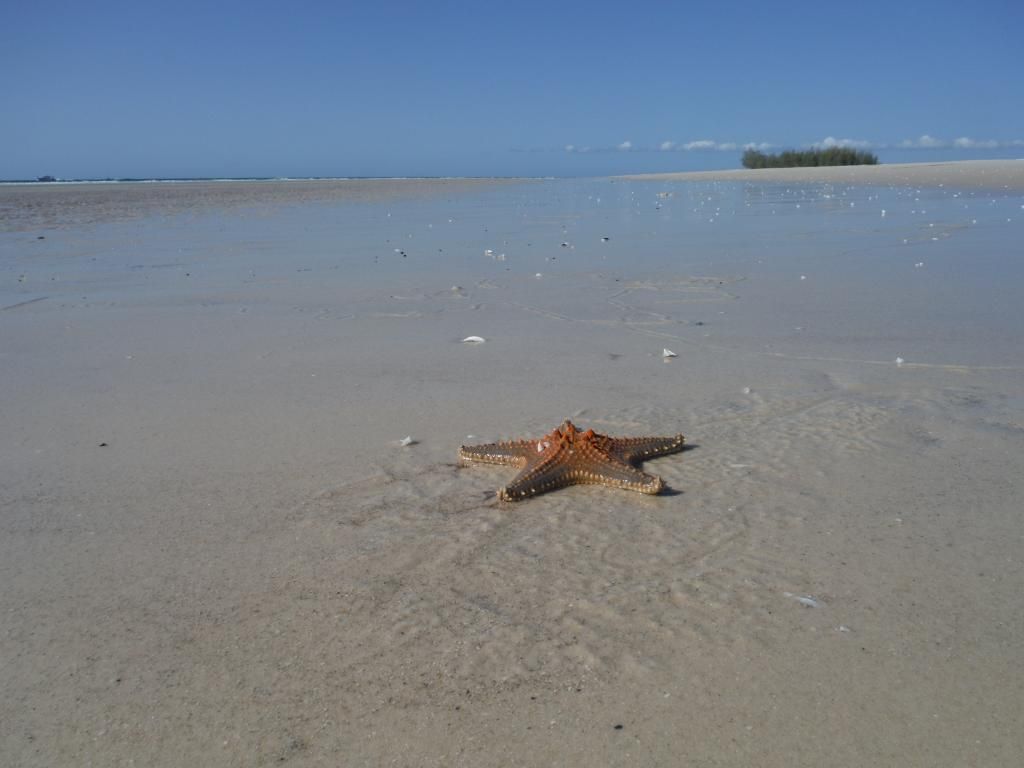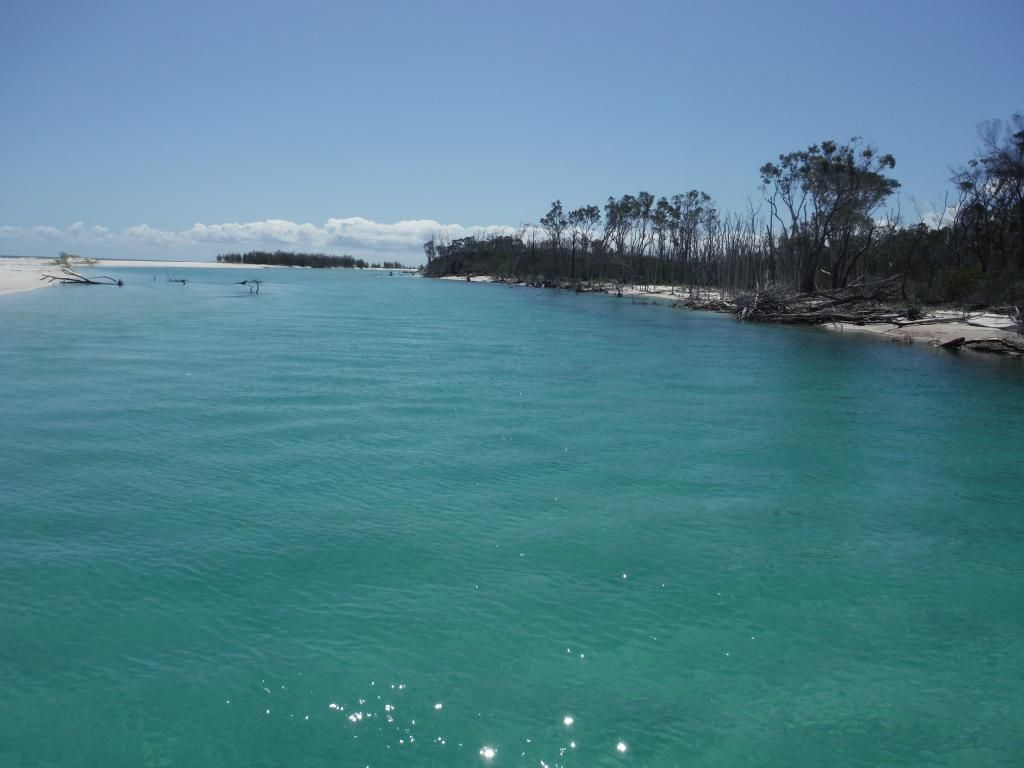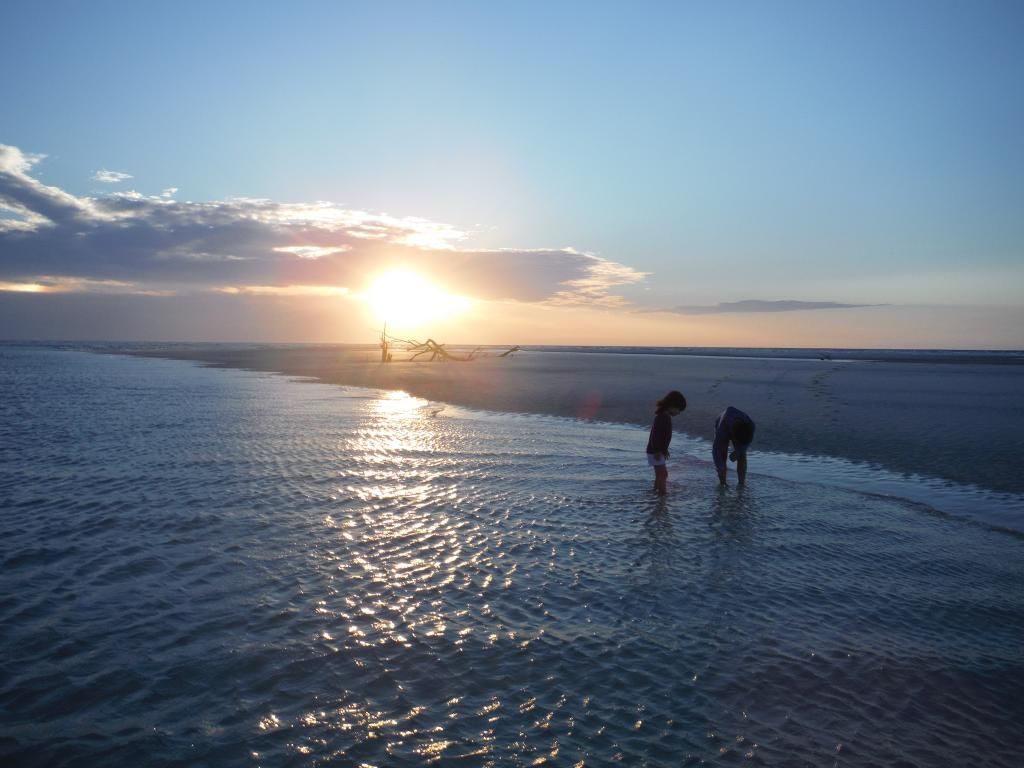 The wind veered again to a South Westerly - you guessed it, virtually on the nose all the way to Kingfisher. I put the jib up but decided we were too close to the wind and I couldn't be bothered messing around. The swell was getting bigger and bigger and my crew were all starting to feel it and so took seasickness tablets. For some reason, I am very lucky and just don't get seasick. Mind you, I can remember times in my youth while serving on HMAS Brisbane, having to strap myself in my rack and being absolutely certain I was going to die after being violently ill for days. The Gunnery mess on Brisbane was up forward, a fun place to be in 10 metre swells!
The seasickness tablets made everyone drowsy and sure enough they all fell asleep and let me battle on for a few more hours. We reached Kingfisher around lunchtime and found a bit of shelter anchored north of the jetty. We stayed there for a bit (crew still happily asleep) while I spent some time getting the boat shipshape (doing the washing up which was still sitting in the sink from the morning fried spam sandwiches). The wind was veering again, but for the first time, in our favour, around to the South and then southeast and so I moved around to the south side of the jetty and let the tide go out leaving us high and dry. We went up to the shop and bought the gas canisters and a few other bits and pieces and then went to "The Sandbar" for a swim in their pool, a beer and a great huge $28 pizza. We tried both the meatlovers and the Kingfisher supreme over the next two days, and the meatlovers was the hands down winner, although we also bought a $10 cheesy garlic pizza with each and they were brilliant!
Arriving back at the boat we found the boat high and dry and the rental segways flying around everywhere. It was interesting seeing the reaction and some of the comments of the tourists seeing a sailing boat sitting on the beach far away from the water. There was a group of drunken Germans riding Segways and the largest one had no sense of balance at all and kept falling flat on his face. His friends thought this absolutely hilarious and would stop to take photos whenever he fell. My wife was out in the cockpit and one of them stopped next to the boat and said in his loud drunken German accent "don't doz things verk better in ze vater" and sped off. While there I met a nice bloke on the beach who amazingly a year earlier had been in contact with me as he was interested in buying my boat. He had ended up buying a 26 foot motor boat and told me he expected he would just make it on his 200 litre tank from his departure point of Tin can bay, to Urangan marina. I told him, that we had not yet sailed and had been to Coongul and then to Kingfisher and out of my 4 x 22 litre tanks onboard, I had used about 12 litres cruising at around 2000ish revs (maybe 5.5 knots). Etecs are pretty economical at low revs and 4 tanks gives a huge range. While at KingfisherI decided to top up that tank anyway. It is a fair walk from the beach to the Kingfisher resort general store and so finally my plastic collapsible hand trolley was put to good use!